Smyth County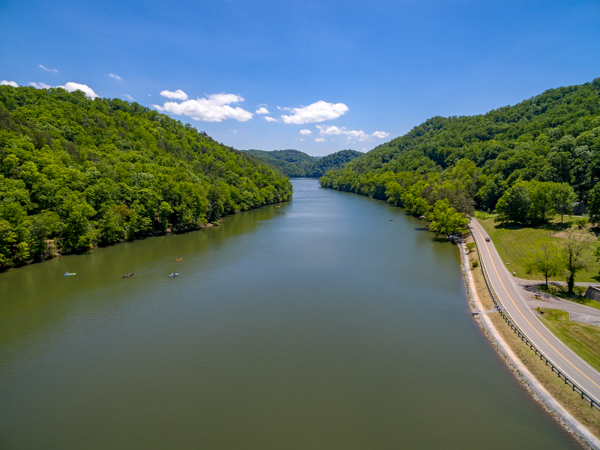 Smyth County is located in the heart of the Blue Ridge Mountains offering some of the most beautiful scenery in Southwest Virginia including the Commonwealth's tallest mountain, Mount Rogers. Smyth County consists of Marion, Chilhowie, Saltville, Sugar Grove and a few smaller communities. If you enjoy the outdoors then you will absolutely love Smyth County.
Downtown Marion
Located at the center of Smyth County is the quiet, albeit adventure filled Town of Marion. Marion has incredible access to interstate 81 making it convenient whether you are heading southwest to Bristol or northeast to Roanoke. Marion has a thriving downtown filled with local restaurants, unique shopping, the historic General Francis Marion Hotel as well as the famous Lincoln Theatre. The Lincoln Theatre offers a variety of musical and theatrical performances throughout the year and the bluegrass music television series, Song of the Mountains. The General Francis Marion Hotel credited with being on National Geographic's Top 150 Hotels in North America offers a luxury stay with the comfort, convenience and amenities of a modern hotel while retaining the ambiance of the 1920's. As you stroll through this energetic downtown you will be amazed at everything Marion has to offer.
Hungry Mother State Park and Outdoor Life
Those seeking an outdoor life full of adventure and beautiful scenery will find Smyth County to be Heaven on Earth. The award winning Hungry Mother State Park is just minutes from Downtown Marion with a 108 acre lake in the heart of the mountains. Hungry Mother has a pristine sandy beach, 17 miles of hiking and mountain biking trails, fishing pier, canoes, kayaks, paddle boards, camping and a variety of cabins. In addition to everything Hungry Mother State Park offers, Marion is home to miles upon miles of stocked trout streams (Check out a local video of the trout). Ziplining, SkyFall, Rock-Wall Climbing, Tubing and much more is also now available in Smyth County through Hungry Mother Adventures.
Back of the Dragon
If riding motorcycles is your thing, then you have to check out the world famous Back of the Dragon Motorcycle Trail that extends across 3 mountain ranges, 32 miles of excitement, 260 curves and elevations up to 3,500 feet running from Marion to Tazewell.
Emory & Henry School of Health Sciences
Launched in 2014, The School of Health Sciences at Emory & Henry College opened a 15 acre campus at the former site of the Smyth County Community Hospital. The campus offers four graduate programs, free clinic and several research labs. Bringing a prestigious college to Smyth County has and hopefully will continue to boost the local economy.
Whilst Smyth County is a beautiful place to visit, it is even a greater place to call home.
---
---
Smyth County Area School Information
Searching within a 10 Mile Radius of 24354.